Shopping in Myeongdong
Myeong-dong (명동) one of Seoul's main shopping districts. The cosmetics heaven.
Brand categorized here are :
Etude House, The Faceshop, Skinfood, Nature Republic, Missha, Tony Moly, Innisfree, VDL, Lioele, It's Skin, Aritaum, Banila Co., Holika Holika, Baviphat, Apieu, Too Cool for School etc
every Korean product have their own stores
If you don't speak Korean, but can converse in Mandarin or Japanese – no problem! Because most of the sales assistants will be able to speak these – mind you it is difficult to find someone who speaks English.
Must check out these items..
My Korean friend said that Missha was popular amongst teenagers since their products are generally affordable, and Tony Moly is fantastic for eye shadows. snail masks and creams from Missha and Holika Holika.
Eyeshadows from Tony Moly and Nature Republic, and eyeliners from Nature Republic, and the popular bb cream from Missha.
Tips on buying in these stores :
-Go to big streets like Myeong Dong, because almost every brands have their shops there. I know Myeong Dong is very crowded and big but it's all there in one place.
-These big streets shops staffs are used to receive foreign costumer. Likewise they usually have staff that speaks English/Chinese/Japanese. If you're looking for a specific products or want to learn more informations but you can't speak Korean these staffs would totally helps you. However, beware sometimes they're really aggressive so if you're weak... you could end up buying everything.
-Prepare your feet! Going around from stores to stores means you need walking strength. Therefore, plan out your route wisely as to conquer and not to exert oneself and to missed out other adventures during the trip.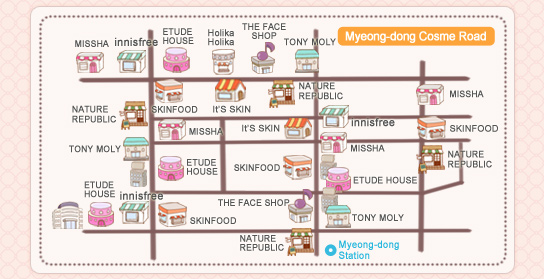 Olive Young ...one could imagine as similar to Watson.
The brand category equivalent to the Brands like NYX, Maybelline, Revlon, L'oreal, Rimmel, NYC, ELF, etc. which one could call price-friendly.
Japanese brands are almost everywhere next to western and some Korean products. Not of he high end Japanese product of Shu Uemura, or SK II, but of the affordable range like .Maybelline, L'oreal, NYX, Elle Girl, Art Deco, Dr. Jart +, Bed Head, Burts Bee, Kiss Me, Canmake, IPKN NY, DHC, Neutrogena, Majollica Majorca, and much more skin / hair care line such as syoss and hadalabo.
Korean brands which is more affordable in retails outlet such as Skin 79, Clio, VOV, Peripera, Cathy Cat etc.
Korean cosmectic product of the high end brand in Korea, such as Urban Decay, Hera, Sulhwasoo, The History of Whoo, ..one can get these brands in department store such as Shinsegye or Lotte or Hyundai Dept store .
Shopping in Dongdaemun
Dongdaemun market is the mecca of domestic Korean fashion.
Doota or Migilore, dedicated to Korean made fashion, and there you'll be in shoppers heaven. Best part is the Dongdaemun night market. The street vendors will start opening shop around around 9PM, and you can shop till the sun rises (literally — shops close near dawn)!
Shopping in Itaewon
Itaewon is famous for their custom tailored suits.
Street shopping is awesome too and there's a whole underground market for super high quality fake bags.
Shopping in Ewha (aka Edae)
shopping at Ewha is one of the cheaper options for shoppers (girls and boys). This place is great shopping for the cheap . ..as it caters for the young especially college students.
Shopping in Hongdae
Hongdae is another college town with tons of people and great shopping. There are some major retail brands here, but most of the shopping here is for domestic Korean fashion.
Shopping in Garosugil
Garosugil is one of the newest hotspots in Seoul. the latest in global and domestic fashion, as well as shopping with good looking and fashionable people. Be prepare to pay.
Shopping in Apgujeong
Apgujeong is one of the richest areas in Seoul, and that means shopping in Apgujeong is where all the high end fashionistas go. This is where name brands such as Louis Vuitton, Prada and Channel setup their main shops. There's also the Galleria Department Store, which houses top line fashion brands. If you like high end shopping, come here.
Check out .....
http://seoulistic.com/travel-to-korea/seoul-shopping-11-best-places-to-go-shop-for-korean-fashion/
http://groovekorea.com/article/9-shopping-suggestions-seoul
..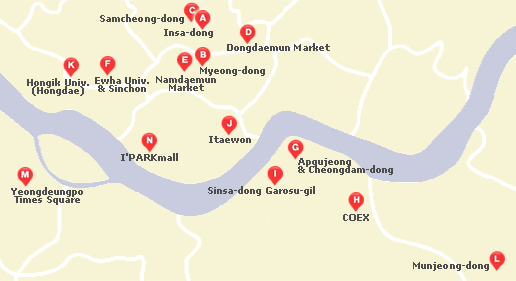 A.. Insa-dong
B.. Myeong-dong
C.. Samcheong-dong
D.. Dongdaemun Market
E.. Namdaemun Market
F.. Ewha Univ. & Sinchon
G.. Apgujeong & Cheongdam
H.. COEX
I.. Sinsa-dong Garosu-gil
J.. Itaewon
K..Hongik Univ. (Hongdae)
L.. Munjeong-dong
M.. Times Square
N.. I'PARKmall
further readings...
http://english.visitkorea.or.kr/enu/SH/whereToShop/whereToShop.jsp?region=Seoul&gotoPage=1#tab
...
..